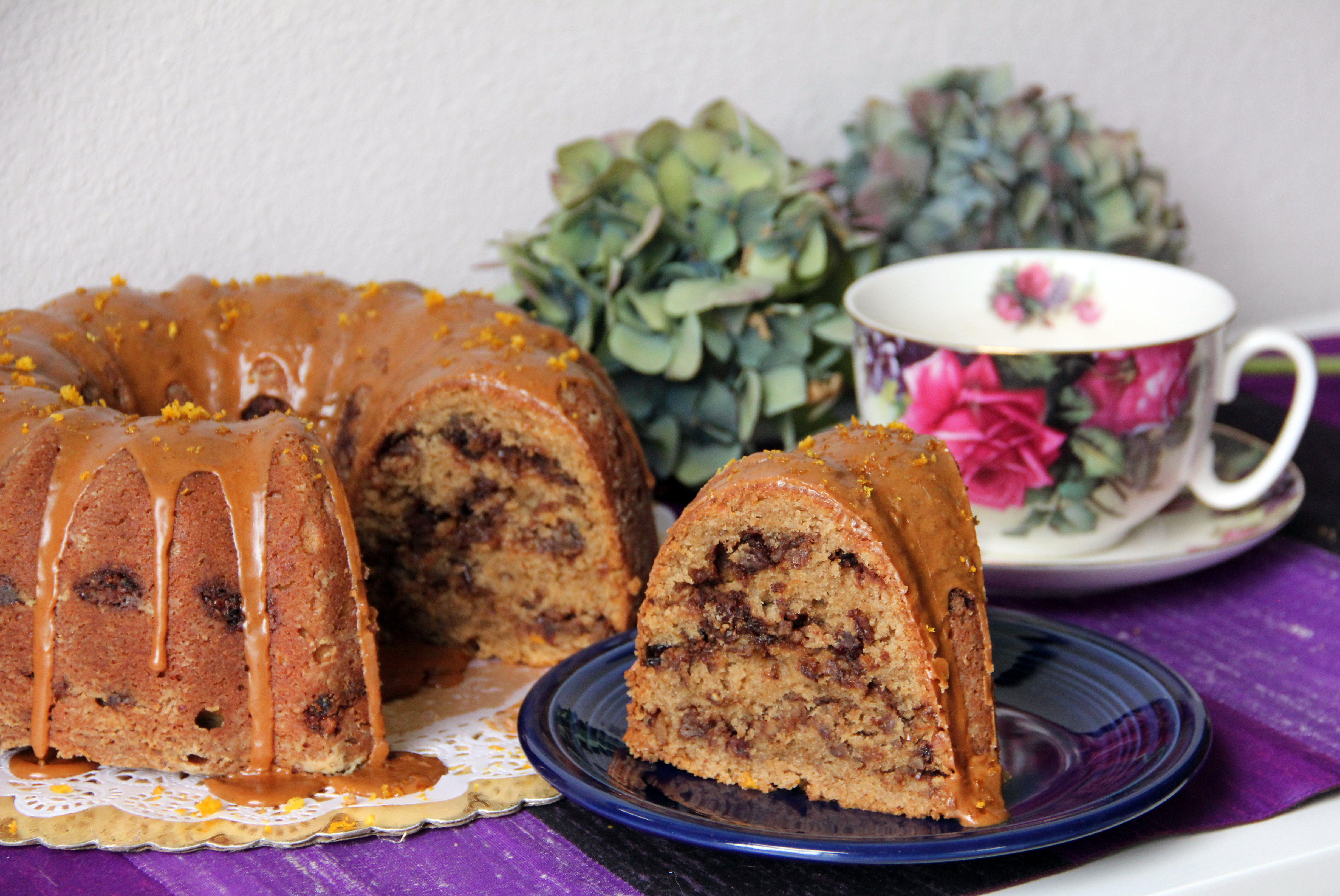 Orange Cranberry Coffee Cake with Chai Glaze
Ingredients
For the Cake
1 ½ cups salted butter, at room temperature
1 ½ cups granulated sugar
3 large eggs
1 ½ tsp vanilla extract
½ tsp orange extract
Zest of 2 oranges
1 ½ cups sour cream
3 cups all-purpose flour
1 ½ tsp baking powder
¾ tsp baking soda
For the Filling
1 ½ cups toasted pecans, chopped
1 ½ cups toasted walnuts, chopped
1 cup brown sugar
¾ cup dried cranberries, chopped
1 tsp ground cardamom
1 tsp ground nutmeg
1 ½ tsp ground cinnamon
For the Glaze
2 cups powdered sugar
1 Tbsp Blue Lotus Chai
1 ½ tsp vanilla extract
¼ cup milk, plus extra for adjusting consistency
Directions
Yield: 1 Bundt Cake | Prep Time: 30 minutes | Bake Time:50-60 minutes
Prepare Ingredients:Allow the butter, eggs, and sour cream to come to room temperature.
Preheat Oven:Preheat your oven to 350°F (175°C).
Grease Bundt Pan:Grease a 10-inch Bundt pan thoroughly to prevent sticking.
Prepare Filling:In a bowl, combine chopped toasted pecans, toasted walnuts, brown sugar, dried cranberries, cardamom, nutmeg, and cinnamon. Set this filling mixture aside.
Combine Dry Ingredients:In a separate bowl, whisk together the flour, baking powder, and baking soda. Set aside.
Cream Butter and Sugar:Using a hand mixer or stand mixer, cream the room-temperature butter and granulated sugar until the mixture is light in color and fluffy.
Add Extracts and Zest:Blend in the vanilla extract, orange extract, and the zest of two oranges.
Incorporate Eggs:Add the eggs one at a time, mixing each until just incorporated.
Alternate Adding Ingredients:Gradually alternate adding the sour cream and the dry flour mixture. Make sure to scrape down the sides of the bowl, and mix until just combined.
Assemble the Cake:Scoop enough cake batter into the prepared Bundt pan to cover the bottom. The batter is thick, so a cookie scoop works well for this.
Add Filling Layers:Sprinkle one-third of the prepared filling mixture evenly over the batter, covering it.
Repeat Layers:Continue alternating layers of batter and filling until you've used all the ingredients, ending with a layer of batter on top. You should have three layers of filling and four layers of batter in total.
Bake:Place the Bundt pan in the preheated oven and bake for 50-60 minutes or until a toothpick inserted into the cake comes out clean. Note that the baking time may vary depending on your oven, so ensure the toothpick is clean to avoid underbaking.
Cool the Cake:Allow the cake to cool in the pan for 10-15 minutes. Then, carefully invert it onto a prepared serving plate by tapping or wiggling the pan to release the cake.
Prepare Chai Glaze:While the cake is cooling, heat the milk and chai powder in a small pot on the stovetop until it simmers.
Mix Glaze:In a small bowl, place the powdered sugar. Once the chai milk simmers, pour it over the powdered sugar and whisk until well combined.
Adjust Consistency:Adjust the glaze consistency to your liking by adding more powdered sugar for a thicker glaze or more milk to thin it out (you can use cold milk for this).
Glaze the Cake:Once the cake is completely cooled, spoon the chai glaze over the top, allowing it to naturally drip down the sides.
Garnish and Serve:Finish the cake by garnishing with additional orange zest. Serve this delightful coffee cake with a warm cup of chai or coffee. Enjoy!